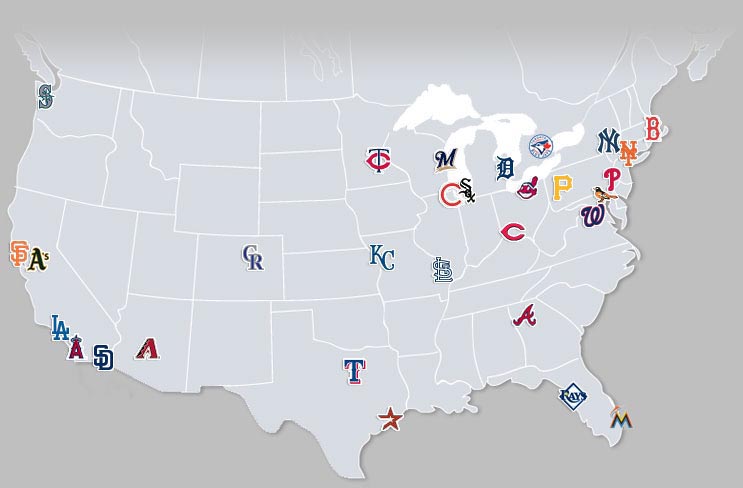 I have no idea from where this preoccupation with realignment has come, but everyone wants a crack at it.
Part of the reason seems to be the imbalance of power resulting from the Yankees, Red Sox, and Rays in the AL East. Within the current system, only two of those three teams can make it into the playoffs even though they may have the three best records in the American League. If you want the best teams in the playoffs, then 2008 looks like a travesty of sorts with the Yankees left out though they technically had the 4th best record. In order to correct this imbalance, those linked above and others have come up with realignment scenarios, but none of them really work.
Practicality is usually an issue. Teams can't just travel across the country all the time to satisfy a balanced schedule or the "floating realignment" (really? Who really thought that was a good idea?)
.
Switching leagues is another common issue. If the NL is really weaker than the AL (it is), then why would an NL team want to switch to a harder league (it won't happen the other way because the NL has more teams than the AL)? And if you have an equal number of teams in the leagues, then Interleague Play has to happen more (there would be an odd number of teams in each league, meaning a team would have to take a few days off), and that would really mess with roster construction. Finally, getting teams to switch to an all-DH MLB or an no-DH MLB likely isn't in the cards for the near future. This part just doesn't work, either.
And the ridiculous changing of divisions and schedules to give weaker teams an easier schedule and good teams a harder schedule is ... well ... ridiculous. I'm guessing the premise of the realignment is to get the best four teams in the playoffs. This idea completely screws with this. The best teams would beat up on each other, thus lowering their records. One of the weaker teams could improve and beat up on the weaker teams, thus improving the record from what it should be. If we stick with simply using records, then this doesn't work. That weaker team may not be empirically better than one of the stronger teams, but because of the schedule difference, the weaker team's record looks better. The best four teams are still not getting into the playoffs.
There are other problems with realignment proposals, but these seem to be the most common. Honestly, I don't think the MLB needs a realignment. This seems to be part of an effort to restore competitive balance, but in the list of reasons why the MLB is unequal, this one is pretty far down. If you really want increased competitive balance, eliminate slotting in the draft (or the draft altogether, but that's a different post), eliminate the difference between rules regarding American and non-American prospects, and move the Marlins to New York to create a third team. But if we're going to say that a realignment can help, then here's an idea, and we pretty much already know it works.
We're going to return the number of divisions in each league to two. Four is too many and will still have the flaw of having a number two team in one division being better than a division leader elsewhere. Three has the same problem. One could work, but you might need some sort of balanced schedule, and we've established that isn't practical. But two might work.
Here are the rules. The division leader is automatically in the playoffs. It's possible that the four best teams could be in one division, but I imagine that it's highly unlikely. After those two, there are two Wild Cards given to the next best records, no matter the division. The East could have three teams and the West only have one. The schedule also evens out a bit more, and because of the geographic divisions, it only becomes a little less practical than today's. In the NL, each division has 8 teams, and the AL divisions have seven each. This also equalizes the division inequality we have now (the Angels only have to beat out three teams while the Orioles have to beat four others). There is still a difference between the leagues (the Angels still only have to beat six teams while the Braves have to beat seven), but I don't know if that can be helped. Expansion to 32 teams is a possibility, but teams like Florida and Tampa Bay already can't draw enough people. Contraction isn't a good idea because there are other markets that could maintain contractable (?) teams. Regardless, someone smarter than me can figure that out, but it wouldn't change the division structure.
Here are the divisions:
AL East
New York, Boston, Tampa Bay, Baltimore, Toronto, Cleveland, Detroit
AL West
Kansas City, Los Angeles of Anaheim, Oakland, Seattle, Texas, Minnesota, Chicago
NL East
New York, Philadelphia, Washington, Florida, Pittsburgh, Cincinnati, Atlanta, Chicago
NL West
St. Louis, Milwaukee, Houston, Arizona, Los Angeles, San Diego, San Francisco, Colorado
How does that look? The problem here is that there are more teams in the eastern US than in the West (meaning teams in the West have to travel more) but if Atlanta could play in the NL West prior to 1995, then I guess the new divisions can work. As for the border cities (between East and West), one might want to choose them based on how easy it is to get a flight in and out, transportation to and from the hotel, etc. Players would know better than I, and the specific teams can be flexible.
Again, I don't know that the MLB needs a realignment. It likely won't make a massive difference. Daniel wrote an article at Beyond the Boxscore explaining how the unbalanced schedule doesn't really screw anyone, and you should believe him considering he has a vested interest in being pissed about the unbalanced schedule (he's an Orioles fan). I imagine that undoing it wouldn't make a big difference, either.
However, if we want competitive balance, the MLB needs a complete makeover. People want to blame one thing or another (the draft, payrolls, division structures, etc.), but in truth, it's a combination of these. If we really want competitive balance (I'm not sure we really do. Deep down, I think most people just want to see the Yankees and Red Sox, or whoever dominates at a particular time, fail, and they would be content), the MLB needs to undergo a major overhaul.
Also, I never noticed how isolated Seattle was from everyone else. Hmm.